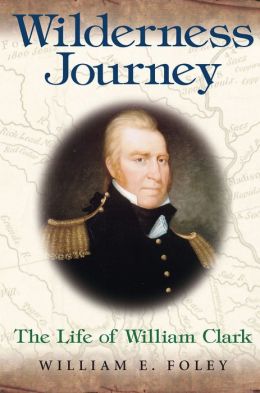 Image Courtesy of Barnes & Noble
William Foley's Wilderness Journey: The Life of William Clark is an impressive biography of the famous explorer and career long government official. Foley starts with discussions of the various Clark family members and then works his way through "Billy" Clark's early years as a frontier soldier. A large portion of the book is not surprisingly dedicated to the Corps of Discovery's trek from St. Louis to the Pacific which paved the way for Clark's future as an Indian agent and as territorial governor of Missouri. After the disproportionate attention to the three years of Lewis and Clark's expedition Foley provides a nuanced treatment of Clark's post expedition career which included plenty more cross country trips to the east. Throughout the book Foley strikes a good balance between Clark's personal and public life and demonstrates the connections between the two. It would have been too easy to have only briefly mentioned his family's struggles and tragedies, but Foley instead keeps them at the heart of the story.
Foley's treatment of the Lewis and Clark expedition is on the whole straightforward and not groundbreaking. However, he sufficiently manages to tell the story of the expedition fairly briefly given other academic treatments of the trek and ties it in well with his explanation of Clark's later actions and his treatment of both his slaves and Indian peoples. While the expedition's story does take up a large portion of the book, Foley would be remiss to have cut it short given that those three years are some of the most fascinating and important years in William Clark's life. He sagely demonstrates that Meriwether Lewis held Clark to be his complete equal despite having been given a lower rank. After returning east, Lewis made sure his partner and close friend received what he deserved including an equal tract of land to his own and equal pay.
Throughout the book Foley's representation of Clark is positive, but not overly glorified. He represents Clark as a thoughtful and calculated captain of the Lewis and Clark expedition, but he does not tarry from criticizing Clark's faults such as his harsh treatment of his slaves, especially York. He points out that Clark delayed freeing York and often kept him away from his wife and family back in Virginia for years.
While Clark's treatment of York and his other slaves such as the pregnant woman he had whipped should certainly not to be overlooked, Foley makes it clear that Clark was a man of his day.
In contrast, Foley does not criticize Clark's handling of Indian affairs. He again and again asserts that Clark worked to ensure fair treatment of the Indian "children" placed under his watchful gaze, but from a Native perspective Clark likely seemed as bad as many of the other American officials. For example, Clark extracted a slew of land cessions through various treaties while he was an Indian agent and superintendent. Many of which were more dubious than Foley lets on. Foley is also quick to note that despite Clark's comments about a war of extermination against the Sac and Fox he calmed down after they had been soundly defeated and pledged allegiance to the United States.
To be sure Foley makes it clear that Clark's expansionist views led him to push for cessions and led him to believe that Indian peoples must be pushed back in the face of American settlers. Interestingly, Foley does not adequately address Clark's defense of Indians against white squatters or the political affects of those actions as Stephen Aron did in
American Confluence.
When it comes to why William Clark lost the first election for governor of the new State of Missouri, Foley larger places Clark's defeat in the light of Clark's family hardships.
During the election Clark went east to see his wife only to find out that she had died, most likely from breast cancer, before he had even left St. Louis. Foley focuses on the fact that while Clark did essentially no campaigning his opponent McNair was actively campaigning and attacking Clark for being aloof, allied with Indians, and dedicated to the St. Louis elite. Whether or not Aron's emphasis on Indian relations or Foley's attention to Clark's family life was the most pressing issue in the campaign is not immediately clear. Both authors had reason to focus their attention in differing ways given the emphasis of their books and in the end both of their explanation are likely accurate; Clark's regular absence and failure to campaign coupled with his contentious relationship to Indian peoples combined to propel McNair to victory over the former territorial governor.
On a whole, Foley's treatment of Clark is incredibly detailed and based on his extensive sources, well researched. He demonstrates that "Billy" Clark was both a man of his day and at the same time a particularly talented leader of men and Indian diplomat. While a more critical discussion of some of Clark's actions would have been appreciated, Foley does a sound job telling the complicated story of Clark's triumphs and his family's devastating losses. Oddly, Clark's death is sudden at the end of the book and only receives a very brief treatment.